Security and Cyber Protection
Security Protection to the Edge
Many organizations treat security as standalone functions applied individually to core IT and application services. Our view is that organizational security is not separated by IT or application but seen as a whole. Our subject matter experts deliver exceptional IT, cloud, and application services to our partners, providing security awareness of the global threat landscape, from the endpoint to the cloud and the data center across all system layers.
Business Value
Sev1Tech customers benefit from our wide customer base in the government and commercial markets. Our experience developing effective solutions with leading edge commercial companies allows us to deploy proven best-in-class security and cyber protection rapidly.
We apply solutions and lessons learned that we have developed for commercial customers to government networks, enabling advancements.
We incorporate security into the planning and development process. Our project and technical leaders work with our engineers, review boards, and stakeholders to develop a detailed plan that includes cyber protection and monitoring integrations.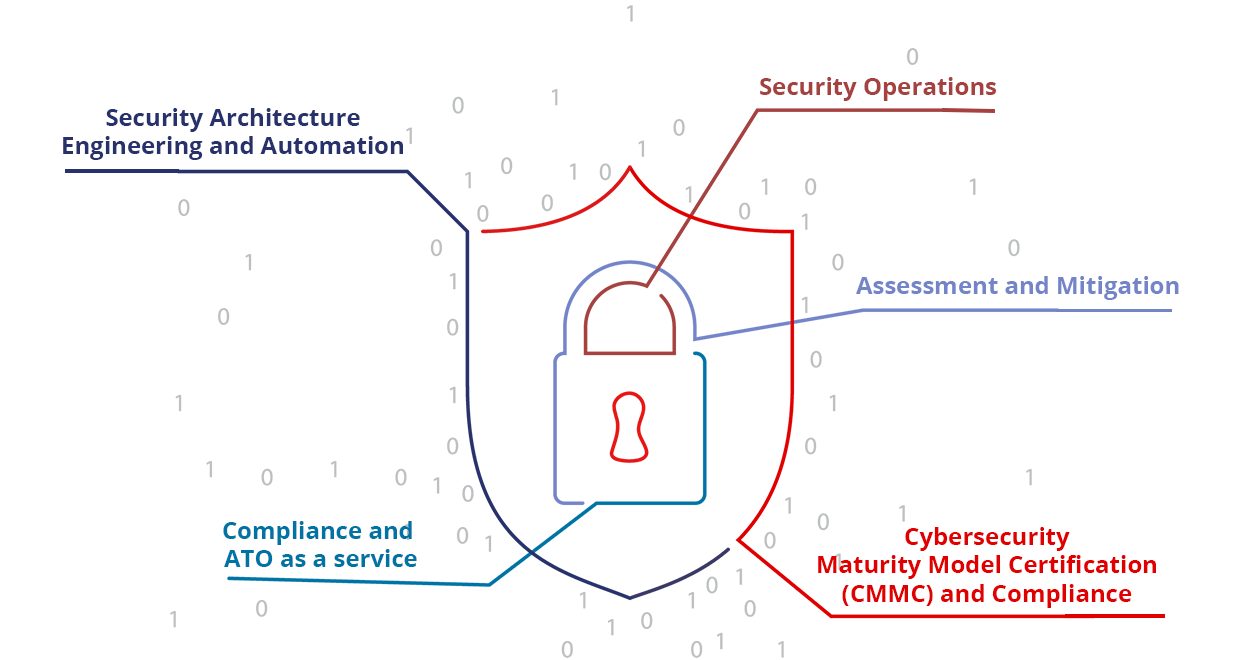 Security Architecture Engineering and Automation

 
Designing and building secure, efficient environments
Sev1Tech delivers industry experts to engineer, implement, maintain, and refresh complex and mission-critical cybersecurity deployments for both federal and commercial customers. Our architectural and engineering services include network segmentation, data protection, solution integration, and root-cause analysis. We increase cyber awareness, reduce system risk, and improve incident resolution times, while maximizing the functionality of existing tools.
Secure Engineering Services
Custom cyber solutions: Each customer is unique and requires different services. Sev1Tech works with our customers to implement cyber solutions that integrate with their current system environment, business operations, and internal SME expertise.
Architecture design: Through modeling and iterative evaluation Sev1tech addresses the challenge of architecting modern secure architectures. The volume of data in modern environments demands well-designed network and system architectures to ensure it is securely stored, properly managed, and accessible to the right customer in modern distributed environments.
Network Security: Sev1Tech security and network engineers work in parallel to design, build, and monitor network infrastructure.
NextGen security monitoring
Sev1Tech designs, builds, and integrates security operation center capabilities both onsite and in the cloud. Following the integration process, our analysts perform security operations to detect malicious activity within the environment.
Secure Operations Services
Defensive Cyber Operations (DCO): Design, build, and integrate devices that meet DCO detection requirements.
Architecture Monitoring Assessment: Analyze system and network environment for monitoring capability placement.
Security Information and Event Management (SIEM): Integrate, configure, monitor, and manage operations of SIEM tools for network detection and response.
Operations: Deliver qualified personnel who understand the customers' environment and are ready to support their mission.
Automation: Provide preconfigured, automated response actions capable of addressing issues and solving problems without human intervention.
Assessment and Mitigation
Sev1Tech's assessment methodology has been proven for onsites and cloud infrastructures to address any organization's cybersecurity deficiencies. Given that the threat landscape and vulnerabilities are constantly changing, our methods are continually enhanced to support each customers' needs and environment.
Assessment and Mitigation Services
Assessment Planning: The planning process is critical to the success of our customers' overall assessment. Sev1Tech works with our partners to establish a plan and assessment scope to include personnel, escalation methodology, tools, and scheduling.
Discovery: Sev1Tech uses a multi-phase approach to perform a discovery analysis. We examine devices and applications to collect the required current state and risk data. Next, we perform a threat-vector analysis comparing the identified systems state, security vulnerability data against system access to assess the exposure and risk.
Follow-on Actions

Assessment Analysis: Identify and develop a prioritized list of exploitable vulnerabilities. In addition, Sev1Tech can perform a vector check to determine if critical operations have currently been compromised.
Technical and Administrative Support: Help organizations respond to risks by adding network administrators and organizations to determine processes and technical solutions to reduce risk.
Security Risk and Solution Prioritization: Help organizations protect their network and applications against cybersecurity attacks by mitigating, and eliminating identified, vulnerabilities.

Risk Management Framework (RMF): Sev1Tech has extensive knowledge of the System-level and Authorizing Office Levels of the Department of Defense RMF process. Work with our customers to develop all required system and submission credentials to meet RMF compliance requirements.
Continuous Monitoring: Monitor and maintain security controls providing leadership with critical information security, vulnerabilities, and threat data, recommending processes to ensure cyber compliance.
Compliance and ATO as a service
We focus on compliance so you don't have to.
Compliance and ATO as a Service (CaaS) brings together Sev1Tech's knowledge, experience, and compliance experts into a common offering enabling our customers to achieve their specific compliance requirements in less time and at a reduced cost.
Providing our customers with a mature compliance solution is key. Using our advanced CaaS solution, we design strategies that deliver compliance on time, for less.
Compliance and ATO Services
Compliance Factory: Extract customer data and system variables to produces necessary compliance documentation.
Compliance Experts: Develop a compliance program to educate our customers on the importance of compliance and avoid violating CMMC requirements.
Gap Analysis: Assess the differences between compliance control requirements and the customers' system environment
Requirements Mapping and Technical Solution Guidance: Map compliance controls to technical applications to ensure effective compliance.
Continuous Monitoring: Continually monitor compliance control baseline to address constant changes in environments, threats and compliance needs.
Cybersecurity Maturity Model Certification (CMMC) and Compliance
IT Security for the Defense Industrial Base
CMMCs are critical for safe, ongoing business operations. We provide our customers with a current compliance assessment, prepare Organizations Seeking CMMC Certification (OSC) for the certification assessment, and compare the company's information against CMMC cyber requirements identifying gaps and providing the insight needed to meet CMMC qualifications.
Sensitive Data Awareness Discovery and Guidance: CMMC auditors require companies to know where CUI information is located to protect the data and segmenting the architecture for the implementation of CMMC security controls. Sev1Tech thoroughly prepares for audits by interviewing system administrators and analyzing system architecture to determine where sensitive data is processed, stored and transmitted.
Boundary Scoping and Infrastructure Segmentation: Sev1Tech uses the results of data awareness procedures to define a scope for the implementation of CMMC security controls to reduce cost, scheduling, and complexity of OSC compliance.
Evidence Creation and Collection: Help create processes and procedures unique to customer's capabilities and offerings to assist in preparing for a CMMC audit.
Technical Implementation Guidance: Analyze OSC's current systems and develop a comprehensive plan with recommendations to help the OSC integrate technical configurations and solutions in accordance with CMMC requirements.
CMMC Assessment Preparation and Remediation Planning: Sev1Tech prepares employees at varying organizational levels for the requirements they must meet, educating them on maturing their infrastructure, policies and procedures to meet audit requirements. Sev1Tech helps prepare, create and implement cybersecurity for the OSC, allowing the organization to stand independently based on mature technology and effective cyber practices.
Cloud Compliance against CMMC Requirements: Our cloud security and compliance experts analyze data and sensitivity requirements, providing recommendations to improve cloud platforms based on customer data, cloud infrastructure location, personnel, services, capabilities, cost, and OSC requirements.