Managed Services Provider (MSP)
Sev1Tech manages comprehensive network, application, infrastructure and security services for multiple customers, leveraging economy of scale to considerably reduce costs. We provide large-scale services to smaller operations, leveraging a long history of expert support for data center infrastructure, engineering, and operations. Service-Level Agreements (SLAs) apply a defined set of services at a fixed price, driven by real-time metrics to support infrastructure and operating systems onsite or in the cloud. We do the work so you don't have to.
Customer Value
Allow clients to focus on their mission
Reduce administration time and costs associated with infrastructure management
Identify and evaluate emerging innovations in cloud technologies
Deliver secure and compliant infrastructure to meet or exceeds SLAs
Provide access to Tier 1, 2, 3, and Subject Matter Expert support
Establish continuous alignment with best practices, architectural standards, and organizational objectives through regular environment reviews and updates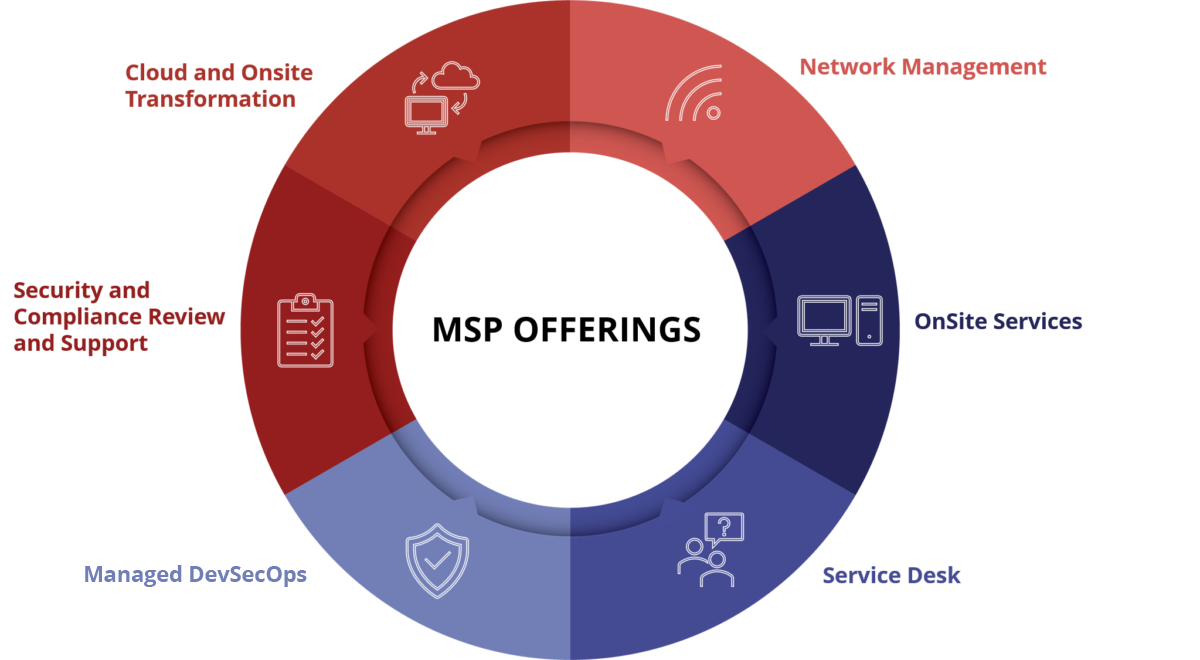 Delivery of cloud and onsite transformation has been a hallmark of the Sev1Tech delivery organization since the company's inception in 2010. Sev1Tech capabilities in monitoring and managing infrastructure extend to scalable architectures spanning a hybrid cloud environment. This includes solutions that leverage our FISMA High assessed data center capabilities, multi-cloud infrastructures, and oversight of environments that have onsite primary and business continuity locations.
Key Services
Hosting
Patch Management
Backup and Recovery
Disaster Recovery and Continuity of Operations
Security Suite Management
Identity and Access Management
Load Balancing
Native Application Support
Application Migration

Maintaining and managing each component and node within scalable and growing networks is a vital to providing proactive, responsive, compliant, and secure network services. Sev1Tech Network Operations Center (NOC) services enable customers to focus on their missions, while we continuously monitoring network health and performance. Sev1Tech's applications monitor the enterprise network to maintain stable, available, and secure transport services.
Key Services
Managed Firewall
Router Management
Switch Management
Internet Service Provider Integration and Access Management
Domain Name Services
Dynamic Host Configuration Protocol
Virtual Private Networking
Remote Desktop
Failover

Support when you need it and proactive monitoring and management before it's necessary. Sev1Tech allows our clients to rely on the knowledge and diverse skill sets of our technical experts without needing to hire an entire in-house support team.
Key Services
Help Desk Support
Application Support
Endpoint Configuration and Support
Unified Communications Management
Antivirus & Antimalware
Operations and Maintenance
User Support
Identity and Access Management
Event and Incident Management
Managed Print Services

Organizations are looking at all avenues to deliver greater value, reduced risk, and increase speed to market. Today's modern application environment means that applications and systems need to be adjusted often to consider changes to the completive landscape, disaster scenarios, or alignment to customer engagement habits.
Sev1Tech provides the personnel and platforms necessary to accelerate those valuable capabilities through our history with government and commercial organizations. We believe in the DevSecOps methodology period. By integrating application security principles and practices into software development and operations, teams can deliver new software and services at agile speed without compromising application security.
Key services include:
Source Control Management
CI/CD Pipeline Management
Managed Container Services
Kubernetes Support
Cloud Orchestration
Artifact Repository Support
Application Load Testing

Managing and maintaining the appropriate security posture for agencies and organizations can be a logistical nightmare. Aligning teams, tracking best practices, reviewing log files, and proactive maintenance require a host of different specializations to maintain an environment less susceptible to compromise.
The Sev1Tech security and compliance review and support offering offloads that ongoing management and personnel effort to a team of certified resources armed with industry-best tools to support the most robust security posture possible for our clients. Our offering is a critical piece of an organization or an agency's security approach, whether aligned with FISMA High/Moderate/Low, HIPAA, PCI, DoD or others.
Key Services
Managed System Security Plans
eAuthentication
Periodic Compliance Audits
Penetration Testing / Vulnerability Testing
Risk and Vulnerability Assessment
Cyber Hunting – or searching through networks to detect advanced threats that may evade existing security solutions
High Value Asset Assessments
Policy Review
Application Compliance Review

Even with distributed networking and cloud technology, many organizations remain centralized around office locations that require a unique brand of support. Our OnSite Services deliver qualified resources available to offer direct engagement and assistance for a variety of daily IT support needs.
Key Services
Desktop Support (including laptops, tablets, and mobile devices as appropriate):
Tier One Desktop Support: Provide basic support and troubleshooting, system availability, and performance monitoring, back-office activities such as modifying accounts, password resets, and communication with end users.
Tier Two Desktop Support: Provide deskside services to install, connect, configure, upgrade, troubleshoot, diagnose, and repair desktop/laptop system hardware and software, mobile devices, and peripherals like printers and scanners. Hardware upgrades, including adding memory, hard drives, removable storage media, DVD-ROMs and network interface cards. Software support, including upgrade or reinstalling operating systems, application software, utility software, and customer-specific procured/developed standard system software. Mobile device and PC refreshes, assisting with COOP exercises and events, and providing support for virus and malware.
Tier Three Desktop Support: Establish technical capability and excellent troubleshooting skills to provide effective deskside services to resolve common technical issues. The issues can include core business applications, support backup solutions and processes, WAN and LAN connectivity, firewalls, and security-related matters. Tier three support provides application support, including installation, configuration, migration, and troubleshooting; malware, spam, and antivirus support. Implement remote access solutions such as VPN and terminal services, OWA, and remote web workplace
Network Support (LAN/WAN/MAN)
Infrastructure Support (Server/Storage/Database/Middleware Management)