WHO WE ARE » MEET OUR TEAM
Sev1Tech Ranks on the 2023 Inc. 5000 List of Fastest-Growing Companies
Sev1Tech receives recognition from Inc. 5000 for its successful growth as a privately owned company in the US. 
WOODBRIDGE, Va., Aug. 15, 2023 — Sev1Tech was named to Inc. Magazine's 2023 Inc. 5000 list for the ninth year in a row. Sev1Tech holds the 2681st spot on this year's list amongst many other leading, growing companies.
Inc. 5000 is Inc. Magazine's list of the fastest-growing, privately owned companies in the United States. This annually released list showcases companies that have grown rapidly from the ground up. The companies selected were chosen based on their percentage revenue growth from 2019 to 2022.
"It gets harder to keep making the list each year. Sustaining this kind of growth at 1000 employees is tough!" Bob Lohfeld, Sev1Tech's chief executive officer, said. "Our continued success is built upon the basics: Hire great people, work hard on a great culture, make hard decisions and fix forward, and most importantly, appreciate the amazing people around you."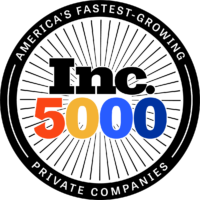 Since its founding in 2010, Sev1Tech has acquired over 1000 employees and continues to grow. The company has also achieved two acquisitions and has expanded its physical presence in 11 states across the US. Over the years Sev1Tech has proven to be a leader in technology acquiring the partnership of the defense, intelligence, homeland security, health, and space markets.
To see the other companies on the 2023 Inc. 5000 list, click here: Inc. 5000 2023: Meet the Fastest Growing Private Companies in America
About Sev1Tech
Sev1Tech provides IT modernization, cloud, cybersecurity, engineering, training and program support services to U.S. government agencies and major commercial organizations. Headquartered in the Washington D.C. metro area, Sev1Tech is a trusted contractor supporting critical missions across the defense, intelligence, homeland security, space, and health markets. Sev1Tech delivers excellence through highly qualified people, CMMI SVC 3, ISO 9001, ISO 20000, ISO 27001 and ISO 27017 certified processes, and cutting-edge technology.
To learn more, visit www.sev1tech.com.
Tags